Devoted fans of the late David Bowie will have noticed the recent tributes to the singer that have been occurring this month such as the Sammy Hagar cover of "Heroes" and the new biopic Stardust starring Johnny Flynn. The reason for the renewed attention is that this January is not only the month of Bowie's birthday but also the five year anniversary of his death. For someone whose career and work often took such mythic proportions, there's almost a sense of cosmic order of Bowie's life beginning and ending in the same month.
Such far-out connections have helped the mystique of David Bowie live long after his passing. Having already achieved iconic status in life, the recent Bowie tributes have only reinforced his legacy. The latest tribute comes from Iconic Images, which oversees an extensive archive of photographs of the elite in entertainment, fashion, and politics. Iconic Images, in fact, has the largest collection of David Bowie photographs in the world, of which only a portion of it is now on display as part of their online exhibit, The Ultimate David Bowie Collection.
---
It's an impressive collection of photographers whose work is compiled. Each photographer was able to bring a different quality out of David Bowie, which is appropriate considering his everchanging nature. Terry O'Neill often referred to Bowie as his muse and their creative relationship last throughout Bowie's many personas. His work with Bowies ranges from posed shots for his albums and promotional materials to backstage candid shots and even screen tests for Bowie's acting career.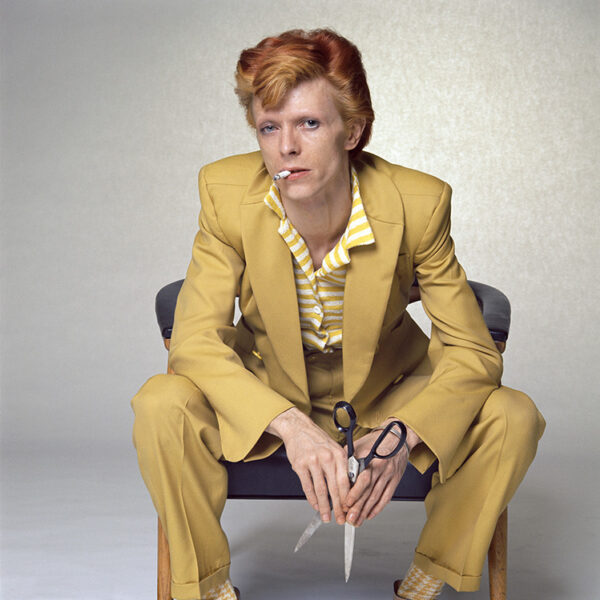 Justin de Villeneuve is well known as the lover and manager of early British supermodel Twiggy. As a scenester in Swinging Sixties London, de Villeneuve was involved in the promotion of rock bands and soon enough he crossed paths with Bowie. In his photographs with the rocker, de Villeneuve was able to get the ethereal and alien quality that Bowie emitted, especially during his Ziggy Stardust days.
Gavin Evans worked with David Bowie during the nineties. At this point, Bowie is entering his elder statesman phase of his career. Highly respected and giant tin the industry, Bowie looks wise, but no less powerful in Evans photos. These images became some of the most published of Bowie's career.

In contrast to the posed photographs in this collection, Janet Mocoska's pictures are action shots. As one of the rock documentarians, Mocoska captures the raw power of live shows. While you can never fully capture the grandeur of a live performance in a still photograph, particularly the glam rock of Bowie, Mocoska comes incredibly close to highlighting what made him such a thrilling performer.
Kevin Cummins is known for his portraits of musicians. Cummins nineties era portraits of Bowie show an aged performer who hasn't lot a step. There's still devilish twinkle in his eye and his youthful smile is no different than when Cummins took a shot of him back in his Ziggy Stardust days.
Longtime friend Gerald Fearnley has the distinction of having the oldest photographs in this collection. Fearnley is the brother of Bowie's bass player in his early backing band, the Buzz. In between rehearsals in hi studio, Fearnley would take promotional pictures for the band. In his photographs of Bowie, he records the beginning of a future superstar Bowie is unpolished and still figuring out his image and it truly is fascinating to get such a raw version of a an artist.
---
Altogether, this collection highlights how extensive Bowie's career was and how much he continues to fascinate and influence fans and fellow musicians. Ever the artist, Bowie comes off less like a model, but more as a collaborator with this group of photographers. Together they created the icon that was and will always be, David Bowie
View the full catalog here or take the virtual tour on IconicImages.net