---
Here's The T in NYC
The sun is shining, the masks are coming off, and the rainbows are flying high. It's June in NYC which means it's PRIDE month! There's nothing better than hitting the streets covered in rainbows & sparkles, to shout your support of all LGBTQ+ people, and join in some of the most outrageous parties of the year. Last year's NYC Pride events were canceled as expected, but with restrictions easing up, a theme for this year's festivities was appropriately announced in February: "The Fight Continues".
"In 2020 our world dramatically changed very quickly and in a matter of weeks we were forced to pivot to virtual programming and cancel many of our events. With much more time to prepare in 2021, we're bringing back many of the events we were forced to cancel last year, most notably Youth Pride which will engage LGBTQIA+ youth, many of whom are grappling with the absence of in-person connection."

David A. Correa, Interim Executive Director of NYC Pride
---
Reading is Fundamental, but Knowledge is Power
Before you head out and join the marches, get educated on the history of the Pride movement. Most of the streaming services release collections of LGBTQ+ themed documentaries, shows, and movies throughout the month of June.
We recommend you give these a watch:
FX on Hulu's PRIDE is a handy intro to the Gay Pride movement. Great for sparking deep conversations with friends and family. If you're looking to get woke or wake someone up, this is a great place to start. Addressing historical events like the Stonewall Riot, the series dives deep into LGBTQ+ civil rights movements from the 1950s through the 2000s.
For something more family-friendly we like the Peacock series reboot of Saved by the Bell. Continuing the tale of the now grown-up Bayside kids, the series pokes fun at itself by addressing the absurdity of a the upper-class high school by introducing a more diverse cast. The pretty and popular mean girl of the clique Lex, is played by transgender youth star Josie Toha. It's implied Lex isn't just any girl when you catch a glimpse of her version of the "I Am Jazz" reality series. More concerned with popularity, power and material things, the current Bayside students don't bat an eye at Lex's gender identity, as she reigns over the school either way.
If you're all caught up on RuPaul's Drag Race and the Boulet Brothers' Dragula you can get your Drag fix with Netflix's 2020 series AJ and the Queen. Tons of legendary Queens make cameos alongside RuPaul who plays Ruby Red of Queens, NY. The story focuses on the unlikely pairing of Ruby and little AJ who is a girl, who dresses in boy drag, but doesn't want to be boy. Their blurred gender roles might be the only thing they have in common, but when AJ hits the road with Ruby for her cross-country drag tour they can't help form a close bond.
---
Coming Out (of Quarantine)
Just in time for summer, NYC is finally seeing a lift in COVID restrictions like social distancing, crowd control, and mask wearing. Though most organizations are continuing to opt for virtual events, we are seeing some in-person parties pop up on the radar.
Here are our top picks for NYC Pride 2021 events:
Saturday 6/12:
Brooklyn Pride is kicking things off with a smaller version of their annual Pride Festival along 5th Avenue. The event's entertainment stage will be located at the 4th Street Cul-du-sac featuring "music ranging from Rock, Hip-Hop, Drag Performers & more". If you can't make it out, the stage will also be livestreamed for partying at home.
Sunday 6/13:
Spreading its wings, Brooklyn Pride is introducing the First Annual Pride on Atlantic Ave from Noon to 5pm. "Walk along the Avenue from 4th Avenue to the Waterfront" and enjoy entertainment, food & drinks, and art.
Friday 6/25:
NYC Pride is bringing back its annual events in both IRL and virtual formats. One event taking place virtually this year is the RALLY to be livestreamed on NYC Pride's Facebook and YouTube pages. A gathering of LGBTQ+ rights activists, organizers, artists and more.
Join us to advocate for Black Trans Lives, and show up in force as a community to advocate for change.

This RALLY marks the 5-year anniversary of the Pulse Massacre. As we honor the 49 victims of this tragedy, we will demand transformative reform to protect our community. Make your voice heard in this historic re-imagined Rally experience.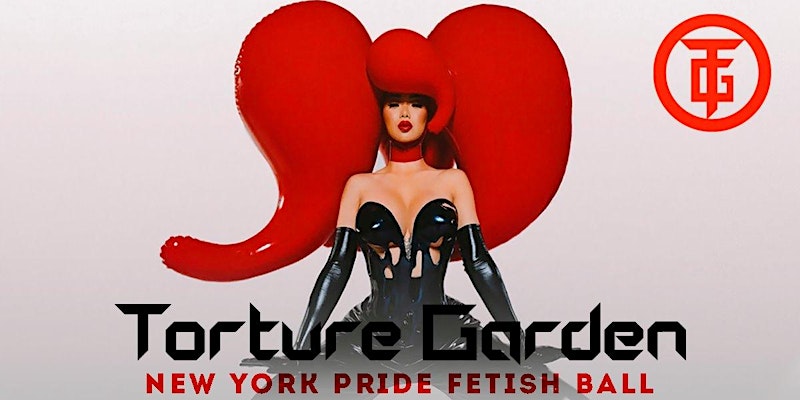 Sat 6/26:
Submit yourself to an experiment in hedonism designed to elevate and engage all of your senses in our opulent multi-level, multi-room vault, featuring an exclusive latex fashion show, BDSM playspace, international DJs, and provocative sideshow, burlesque, aerial and kink performances by a decadent cast of world-class provocateurs.
Sun 6/27:
Look for our limited edition SDNYC condoms being given away at the NYC Pride Festival's info booths starting at 11am. Then drop by 7B Horseshoe Bar during the street fair to pick up a free Pride Fest gift from Sin Dee NYC.
If you're up for sticking it to the man join the 3rd Annual Queer Liberation March at Bryant Park. "The Queer Liberation March revives the goals and spirit of the original Christopher Street Liberation Day March in 1970, born out of the 1969 Stonewall Uprising: social justice, freedom, and access for all!"
Later this year:
Queens of Queens don't fret! The Queens Pride org announced they're pushing festivities back to August due to COVID concerns. "Our Pride march is a much-anticipated yearly event, and we want to make sure that when we do it, we are both being safe and that we are providing the absolute best environment and experience for everyone in Queens." Which only adds to the anticipation of late-summer in NYC with Coney Island's Mermaid Parade making a similar announcement that their parade will take place in September instead of the usual summer-solstice date.
---
Category is Rock & Rally Realness
The Official Sinners love any excuse to dress up in a theme or costume. Naturally we've started piecing together our outfits for Pride a few months ago, but you're not too late to get your party gear.
Some of the coolest rainbow-wear we've seen is just one click away at favorite online retailers:
---
Is Your Pride Your Super Power?
Head to The Sinner Shop and pick up one of our limited "SuperGay" nameplates. Let your Super Pride shine!
→ Enter our raffle at the Rock & Rally party Fri 6/25 for a chance to win a "SuperGay" nameplate + other prizes!
---
NEW HEADLINE
Check out the Sin Dee NYC Guide to Pride on Pinterest for more rainbow outfit ideas, breakdowns of all those flags, sexual preference labels & pronouns, and tons of cute LGBTQ+ art to set as backgrounds.
Get down with boogie while you prep to slay those Pride parties and festivals. Head to Spotify and hit play on our Rock & Rally Playlist (contains very explicit content—just how we like it):
---
We are currently looking for volunteers, street team, performers, and sponsors
for 6/25 & 6/27. Contact us ASAP to join the fun! Email: info@sindeenyc.com